The second blind spot we'll explore here is stalling. Just like the character types we explored in the last Topic, stalling has the effect of keeping you in hiding. Do you ever notice yourself over-complicating something? How about endless editing, revising again and again to incorporate another idea or topic, or convincing yourself there's "just one more thing" to add to a deliverable? While at times appropriate, each can also be employed as a stalling technique, which allows us to remain in hiding when we aren't sure of ourselves.
Here are some ways stalling shows up at the office: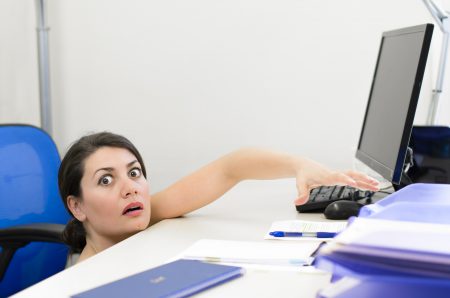 You're in a meeting. You have something to add to the discussion, but you hesitate. Instead of sharing your thought, you let the moment pass because you aren't 100% sure of yourself. You tell yourself, "if I had the time to do some research, then I would speak up" and you let yourself off the hook.*
You accept a new role. You know there are several stakeholders who are critical to your success. However, you put off meeting with them because you haven't yet done anything noteworthy and you don't have anything smart to say. You tell yourself you'll meet with them later, when you know more or when you've actually accomplished something.
You often miss deadlines or take longer than you want to finish deliverables. The truth is, your work is basically done but you can't let go of it because you need to go through your draft "just one more time" before you feel comfortable that it's ready to email it to the team.
Do you recognize yourself in any of this?
Go to the next Topic to learn about a third area we often have a blind spot around: avoiding.
---
*Note: here, we are talking about examining and becoming more aware of behaviors that are driven by fear where that fear is causing us to cover up more authentic or true aspects of our nature. We are not talking about behaviors that originate with authentic aspects of personality (e.g., introversion versus extroversion). Personal style can include taking time to process before speaking, which may result in not speaking up as fast as the next guy.